About a hundred documents
20 manuscripts, several tens of printed books
Prince Francis-Xavier (1730-1806), the second son of the house of Saxony, had a turbulent career. Despite his military success during the Seven Years War, he did not obtain the throne of Poland as he wished. He was administrator of Saxony from 1763 to 1768, but his bid to become Grand Master of the Order of Teutonic Knights failed. He then settled in France, taking advantage of the fact that he was the favourite brother of the Dauphine Marie-Josèphe (1731-1767), the mother of Louis XVI and the last two Bourbon kings. Dividing his time between the court, his Paris residence and two properties he bought in Champagne, Chaumot and more importantly Pont-sur-Seine (a chateau built by Le Muet for the Superintendent of Finance, Claude Bouthillier de Chavigny), he prepared to end his days peacefully under the name of the Count of Lusatia. The French Revolution decided otherwise and the prince fled France in 1791, leaving most of his collections, furniture and archives in the chateau in Pont, which were confiscated. Xavier of Saxony died in Dresden on 21 June 1806.
The Mazarine has numerous printed or manuscript volumes that once belonged to Xavier of Saxony. Inventoried by the revolutionary authorities in Champagne in May-June 1793, the Prince's library caught the eye of Abbé Leblond, the director of the Mazarine since 1791. Leblond was a powerful adviser to the successive committees after 1790, whose task it was to survey and distribute the confiscated collections of books and artworks.
Die Gesellschaft des Fürsten : Prinz Xaver von Sachsen und seine Zeit / Hrsg. für das Schloßbergmuseum Chemnitz von Uwe Fiedler, Thomas Nicklas und Hendrik Thoss. Chemnitz : Ed. Mobilis , 2009.
Isabelle de Conihout, « La Bibliothèque de Xavier de Saxe, de Pont-sur-Seine à la Bibliothèque Mazarine », dans Mélanges offerts à Christian Galantaris. Paris : Editions des Cendres, 2009, p. 215-224.
Georg Engelhard von Loehneyss, Della Cavalleria. 2° 4858 B [Res] Printed book, 1609, Della cavalleria, one of the most important equestrian treatises ever published and a magnificent book of festivities, was printed by the author, Georg Engelhard Loehneysen (1552-1622), who gave the elector of Saxony a copy of his book in 1611, probably this one. .
Mara R. Wade, "Publication, pageantry, patronage, Georg Engelhard von Loehneyss' Della Cavalleria (1609 ; 1624) and his Hamburg Tournament Pageant for King Christian IV of Denmark (1603)", Daphnis, 2004, p. 165-197.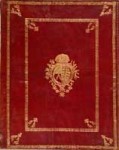 M.A. Borghi, Disegni delle principali fabbriche, e delizie del serenissimo di Modena. 2° 4807-77 [Res. HR] Collection of drawings, 1771-1773, Very large volume bound in red morocco stamped with the coat of arms of Xavier of Saxony, containing nine large drawings representing the palaces and gardens of the Dukes of Modena in the late eighteenth century.. 45 x 60 cm
Bibliographie :
Isabelle de Conihout, "Le recueil de dessins des palais du duc de Modène de Michelangelo Borghi, 1771-1772, offert à Xavier de Saxe", dans Gaspare et Carlo Vigarani : de la Cour des Este à celle de Louis XIV, Milan, Versailles, 2009, p. 39-43.