A century of typographical excellence: Christophe Plantin and the Officina Plantiniana (1555-1655)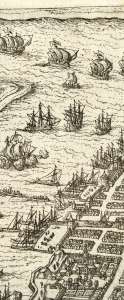 from 19 November 2021 to 19 February 2022
Monday-Saturday, from 10 a.m. to 6 p.m. Free Admission
23 quai de Conti, 75006 PARIS
The book world celebrates the 5th centenary of the birth of Christophe Plantin (circa 1520-1589). Native of Touraine, trained in bookbinding, he settled about 1549 in Antwerp, which was already a major hub of international commerce. In 1555, he established the foundations of the largest printing company known during the Ancien Régime in Europe.
Business genius and talented typographer, Plantin gained an official position with his nomination in 1570 as architypographer of Philip II, king of Spain, who reigned over the whole of the Low Countries at this time. His officina, which took as emblem 'The Golden Compasses', became one of the most important editorial supporters of the Counter-Reformation, though this did not prevent him from engaging in clandestine activities. At his death, it passed to his son-in-law Jan Moretus I and remained in family hands until the 19th century.
From the beginning, Plantin's production was distinguished by its elegant style. His correspondence, and part of the exceptionally well-preserved archives of the business, testify to his ample commercial ambitions and great attention shown to the expectations of the public and the market. They also document an utmost care given to the conception of books.
The first century of activity of the Plantin-Moretus printing-house, which was especially brilliant, its editorial strategies and the requirements for its production are at the heart of this exhibition. It shows how Christophe Plantin and his successors transformed the aesthetic of the Renaissance book and launched the Baroque era of the page layout in marshalling typographic and novel decorative materials, in promoting illustration with copper engravings, in appealing in a favourable manner to the painter Peter Paul Rubens or talented illustrators and engravers (Pieter van der Borcht and the Wierix Brothers, Charles de Mallery or Cornelis Galle). In this golden century, the Plantinian printing-office published more than 5,000 editions, combining visual allure with legibility and efficacy.
Exhibition organised by the Bibliothèque Mazarine
and the Cultura Fonds Library (De Eik nv, Dilbeek),
in collaboration with the Plantin-Moretus Museum (Antwerp)
Publication : A Century of Typographical Excellence: Christophe Plantin and the Officina Plantiniana (1555-1655)
= Un siècle d'excellence typographique : Christophe Plantin et son officine (1555-1655)
(coed. Bibliothèque Mazarine, De Eik nv & Éditions des Cendres, 2020: 48 €).
Exhibition curators: Joran Proot, Yann Sordet & Christophe Vellet