Notre-Dame Books (exhibition)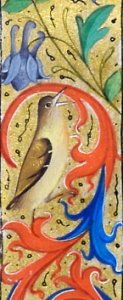 from 14 December 2012 to 15 March 2013
Entrée libre du lundi au vendredi, de 10h à 18h
23 quai de Conti, 75006 PARIS
In 1163, Pope Alexander III laid the foundation stone of Notre Dame Cathedral in Paris, in the presence of Louis VII. This famous monument and the community who has lived and worked in its shadow, has a special place in the history of France. But the cathedral's history is also made of books: manuscripts for services, kept in the church choir; evidence of the great events in which the cathedral was involved; books written, read or owned by the residents in Notre Dame cloister; and most importantly, books from the cathedral library, slowly built up from the thirteenth century and already a remarkable collection by the end of the Ancien Regime, obviously strong in the religious field but also interested in the sciences, travel books, profane literature and history. The chapter library received books from other sanctuaries (Saint Denis abbey, the collegial church of Saint Germain l'Auxerrois...) and many gifts from bishops and canons (some of whom were also collectors), princes or scholars. Although three hundred manuscripts were sold to the king in 1756, it still owned about 12,000 volumes at the Revolution, many of which then passed to the Mazarine.
The exhibition displays manuscripts, often richly illuminated, and a set of rare books bearing witness to many aspects of the cathedral's activity from the Middle Ages to the Revolution: luxurious missals ordered by the great bishops of the fourteenth and fifteenth centuries; changes and reforms in rituals and liturgical chants; teaching; relations with the kingdom of France. The books of Notre Dame that have come down to us are an outstanding literary, artistic and spiritual heritage.
An exhibition organised by the Bibliothèque Mazarine,
in collaboration with the Institut de Recherche et d'Histoire des Textes (CNRS)
and the Institut de Recherche sur le Patrimoine Musical en France.
Curated by Cécile Davy-Rigaux (IRPMF), Jean-Baptiste Lebigue (IRHT)
and Yann Sordet (Mazarine).
Exhibition catalogue published in Notre-Dame de Paris 1163-2013. Proceedings of the colloquium at the Collège des Bernardins, Paris, 12-15 Dec. 2012. Turnhout: Brepols, 2013 (ISBN 978-2-503-54937-8)