Raynal, looking towards America (exhibition)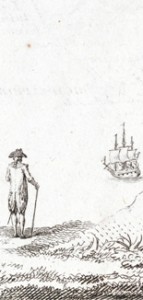 from 13 June 2013 to 15 September 2013
Entrée libre du lundi au vendredi, de 10h à 18h
Bibliothèque Mazarine, 23 quai de Conti, 75006 Paris.
Tel: 01 44 41 44 46
Guillaume-Thomas Raynal's name is still associated with his major work, Histoire philosophique et politique des établissements et du commerce des Européens dans les deux Indes. This would-be encyclopaedic compilation, a best seller in the late eighteenth century, was criticised as much as it was acclaimed by his contemporaries. It seems to be fully representative of a publishing field in which simple travel accounts gradually turned into a philosophical reflection on Europe's role in the world, and on the American continent in particular.
The three hundredth anniversary of the birth of Abbé Raynal (1713-1796) was an occasion to spotlight the singularity of an Enlightenment thinker's view of America. A viewpoint immersed in current events – Raynal was a self-styled chronicler of The War of Independence – but which announced the deep political and social changes set in motion by the French Revolution, in particular the abolition of slavery. Raynal's view also reflects the wide reading of a writer who had never crossed the Atlantic.
Centred on the various editions of Histoire philosophique des deux Indes, the exhibition presents the emblematic works of the great flow of publications about the New World from the sixteenth to the eighteenth century: accounts of exploration and early settlement, colonists' stories or travellers' observations. The War of Independence, the condition of the slaves in the European colonies, and the circulation and reception of Raynal's ideas can be perceived through the manuscripts and books of Enlightenment thinkers. Rare books, journals, archival documents or simple brochures illustrate America's eminent place in the intellectual debate and collective imagination in Europe since 1492.
Exhibition organised by the Bibliothèque Mazarine,
with the support of the Cultural Section of the United States Embassy.
Curated by Gilles Bancarel and Patrick Latour.